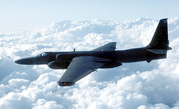 Colonel William James "Greg" Gregory, U.S.A.F., retired, was born in Smith County, Tennessee in 1920. In 1941, while in his Junior year at Middle Tennessee State University, he entered the U.S. Army Air Corps in the aviation program, just three months before the start of World War II. After completion of flight training at Randolph Field, San Antonio, Gregory began combat in north Africa flying the P-38 Lightning, the first of many Lockheed aircraft in his career. As a Command pilot, Gregory is also a combat veteran of the Korean and Viet Nam wars. A military career that spanned over 30 years during the most significant chapters of the development of aviation, Col. Gregory piloted 55 different airplanes while in the Air Force, including a number of aircraft flown with the US Navy. He is one of a few Air Force pilots attaining Aircraft Carrier Qualification, off the USS Lexington.
An important chapter of Col. Gregory's career relates to the Cuban Missile Crisis, serving as a U-2 pilot and the Commander WRSPIV, the Air Force/CIA U-2 collaborative squadron that provided the first photographs identifying the presence of SAM missiles and Soviet build up in Cuba. During this period of his career, Col. Gregory worked closely with the highly revered Lockheed aeronautical engineer, Kelly Johnson, designer of the U2 and SR-71. Gregory and his pilots provided frequent feedback contributing to the refinement of this high-altitude reconnaissance aircraft.
As a result of Gregory's command of this U-2 project, he was awarded the CIA's Medal of Merit by CIA Director, Lt. General Marshall Carter, his second Legion of Merit and a personal letter of commendation from President John F. Kennedy. Following the award presentation in a secure ceremony, the medal was taken to CIA Headquarters in Langley, and was returned to Col. Gregory when his involvement in the Cuban Missile Crisis was de-classified in 1975.
Col. Gregory's continued command of top secret U-2 missions provided surveillance images detailing the mounting tension in Viet Nam. During his assignment to the Pentagon from 1967-71, Col Gregory worked in the area of research and development, focused on the design of the first drone concepts. He also served as Chairman of the United Nations Committee on Reconnaissance in Brussels, Belgium. Col. Gregory's final Air Force assignment was as Vice-Commandant of the Air Force Institute of Technology at Wright-Patterson Air Force Base, retiring from active duty in 1975. Col. Gregory holds the rare distinction of being awarded four Legions of Merit throughout his career for his service to the Air Force.